FURminator SHED-LESS treatment : $10 to $40
The FURminator Treatment will make both long- and short-haired pets look and feel better. Within one to two treatments, the FURminator has been proven to reduce shedding up to 90%.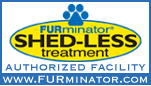 ORAL HYGIENE SYSTEM :

$10

PET GEL

Oxyfresh's Pet Gel is a soothing blend of Oxygene?/b> with Aloe Vera to heal, condition, and deodorize your pet's mouth. The exclusive Oxygene?/b> formula neutralizes the germs that cause bad breath with a powerful, non-toxic oxidization process that works like nothing else to completely eliminate odors at their source. Our most versatile pet product, this odorless and tasteless gel can be used orally or externally to soothe, cleanse, and deodorize.

Soothes gum and mouth irritation from illness, injury, or loose teeth

Also safe and effective for use externally on open wounds and abrasions

Use as pet toothpaste or simply rub on pet's gum line

A critical component of the Oxyfresh Pet Oral Hygiene System
Oxyfresh is proud to offer Pet Gel with Oxygene?/b>, another innovative product to help your pet live a happier, healthier, more comfortable life!
PET ORAL HYGIENE SOLUTION
Non-toxic and safe, Pet Oral Hygiene Solution with Oxygene?/b> not only controls the bacteria that cause bad breath in pets; regular use can actually help your pet live a longer, healthier life by slowing the progression of periodontal disease.

Periodontal disease has been called the "silent killer of pets", and proper oral health care may actually extend the life of your pet by 2 to 5 years. It's estimated that 80% of dogs and 70% of cats over the age of 3 suffer from periodontal disease, a serious deterioration of the gums and supporting bones of the teeth. Left unchecked, resulting bacteria can enter your pet's bloodstream, causing infection or damage to vital organs such as kidneys, lungs, heart, or liver.

Oxyfresh offers simple, effective oral hygiene for your pet starting with Pet Oral Hygiene Solution with Oxygene?/b>!
Tasteless and odorless

Easily added to pet's drinking water

Promotes healthy gums and fights dangerous periodontal disease

Eliminates bad breath odors with exclusive Oxygene?/b> formula found only from Oxyfresh!

FLEA & TICK DIP : $10

DEMATTING : $20 per ?Hour

NAIL POLISH : $5

SPECIALIZED SHAMPOO : $3 to $10
(B.B.T customer only)

MEDICATED SHAMPOO : $5 to $10

HOT OIL TREATMENT : $10
(B.B.T & FULL GROOM customers)
PRICES SUBJECT TO CHANGE WITHOUT NOTICE